Guardiola responds to Pochettino's odd behaviour on Sunday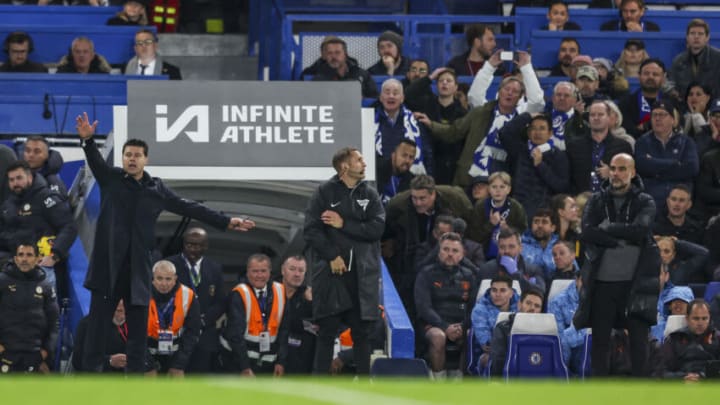 LONDON, ENGLAND - NOVEMBER 12: Head Coaches Mauricio Pochettino of Chelsea and Pep Guardiola of Manchester City during the Premier League match between Chelsea FC and Manchester City at Stamford Bridge on November 12, 2023 in London, England. (Photo by Robin Jones/Getty Images) /
Following the Chelsea-Manchester City meeting on Sunday evening, the Spanish coach addressed Pochettino's peculiar actions.
Chelsea's head coach, Mauricio Pochettino, apologized to Manchester City manager Pep Guardiola and referee Anthony Taylor following their Sunday match at Stamford Bridge, which was the highlight of Matchday 12 of the English Premier League for the 2023/2024 season.
In one of the most exciting games of the Premier League this season, Chelsea and Manchester City tied 4–4. But following the final whistle, Pochettino's actions took an unexpected turn.
After the final whistle, the Argentine coach took to the field to express his disapproval of Taylor's choices. Raheem Sterling might have scored from a counterattack, according to Pochettino, but the referee blew the whistle rather than allowing the attempt to continue.
Pochettino, meantime, ignored Manchester City coach Pep Guardiola's handshake and focused all of his energy on berating the officiating crew, earning himself a yellow card.
The match referee received a heartfelt apology from Mauricio Pochettino in a post-match statement, which read, "I need to apologize to Anthony and the referee team; at that moment, I felt Raheem could have scored."
He went on to say, "I should be given a warning. Additionally, I want to apologize to Pep Guardiola. I had the match on my mind."
However, the coach of Manchester City made no mention of the incident in his post-match remarks, saying, "I won't say a word. That's all right. I experience these feelings from time to time. It had previously happened with Pochettino. Please don't get me wrong; everything is fine."