Coffee, opponents, and rain – Croatian duo answer fans!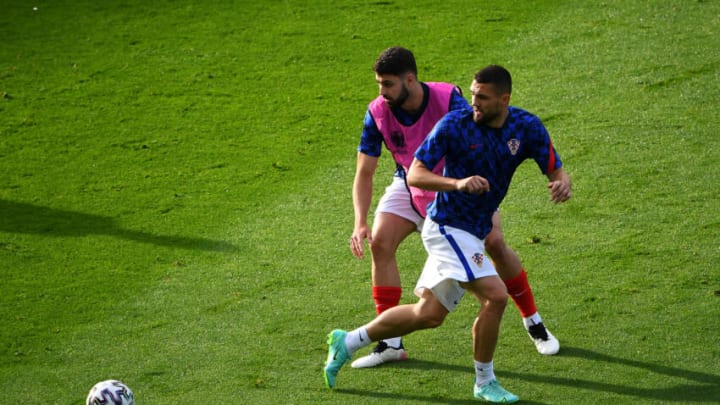 GLASGOW, SCOTLAND - JUNE 22: Josko Gvardiol and Mateo Kovacic of Croatia warm up prior to the UEFA Euro 2020 Championship Group D match between Croatia and Scotland at Hampden Park on June 22, 2021 in Glasgow, Scotland. (Photo by Andy Buchanan - Pool/Getty Images) /
Manchester City's recently signed Croatian duo Mateo Kovacic and Josko Gvardiol partook in an interview where they answered questions provided by fans across the globe.
Kovacic and Gvardiol answered numerous questions about themselves from various topics, giving Cityzens out there a better look at their squad members.
Here are some of the answers given by Gvardiol and Kovacic!
First, Kovacic was asked how he feels about being a player of Manchester City, "Very excited. City have been showing great consistency. Always trying their best in every cup; it's not easy. It's nice to be here."
Gvardiol told fans how the social media app WhatsApp is something he can't live without, "I couldn't live without WhatsApp because I use it to talk with friends and family. I can't imagine life without it!" Which Mateo agreed with for himself also.
Kovacic then chose three teammates he would want to be stuck on a desert island with, Josko being the first as he explained the two have known each other for quite some time, and then picking Nathan Ake and Rodri to tag along.
A few questions regarding how Gvardiol is settling in at the club, the first one being about what the biggest change is: "The weather is different from Germany. But I actually like to play football while it's raining!"
He then told how Mateo has been a big help to him with adjusting to a new location, "Big thank you to you Mateo, because you are always with me. I'm really grateful."
Kovacic then had to decide which has been the toughest game he has played thus far, to which he replied, "When I played for Chelsea, probably the ones against City. There are many games, especially the one against Argentina in the World Cup."
Mateo was then asked to reveal something interesting about himself, "Nothing interesting, to be honest," he started but then thought of some things he could share: "When I'm not here, I like to be with family and friends, now you (Josko) as well. I like to play padel and drink coffee a lot!"
Gvardiol quickly exclaimed, "I know that!" to Mateo's love of coffee and then added, "After every meal, he has coffee!"
You can check out the full video of the two answering these questions and some others ones too, by clicking here. It's a fun watch, for sure!
You can also catch Josko Gvardiol and Mateo Kovacic this weekend as they and Manchester City meet Bournemouth on Saturday at 15:00 (UK).